Village Broadband Availability
FTTP
OgImage:
QUAINTON BROADBAND
Latest News
BT Openreach have advised that superfast broadband by Fibre to the Premises (FTTP) is to be made available to most of the properties on Station Rd that currently have a very poor service.

The map below clarifies which properties will benefit.

The project is expected to be delivered between December 2021 and Spring 2022.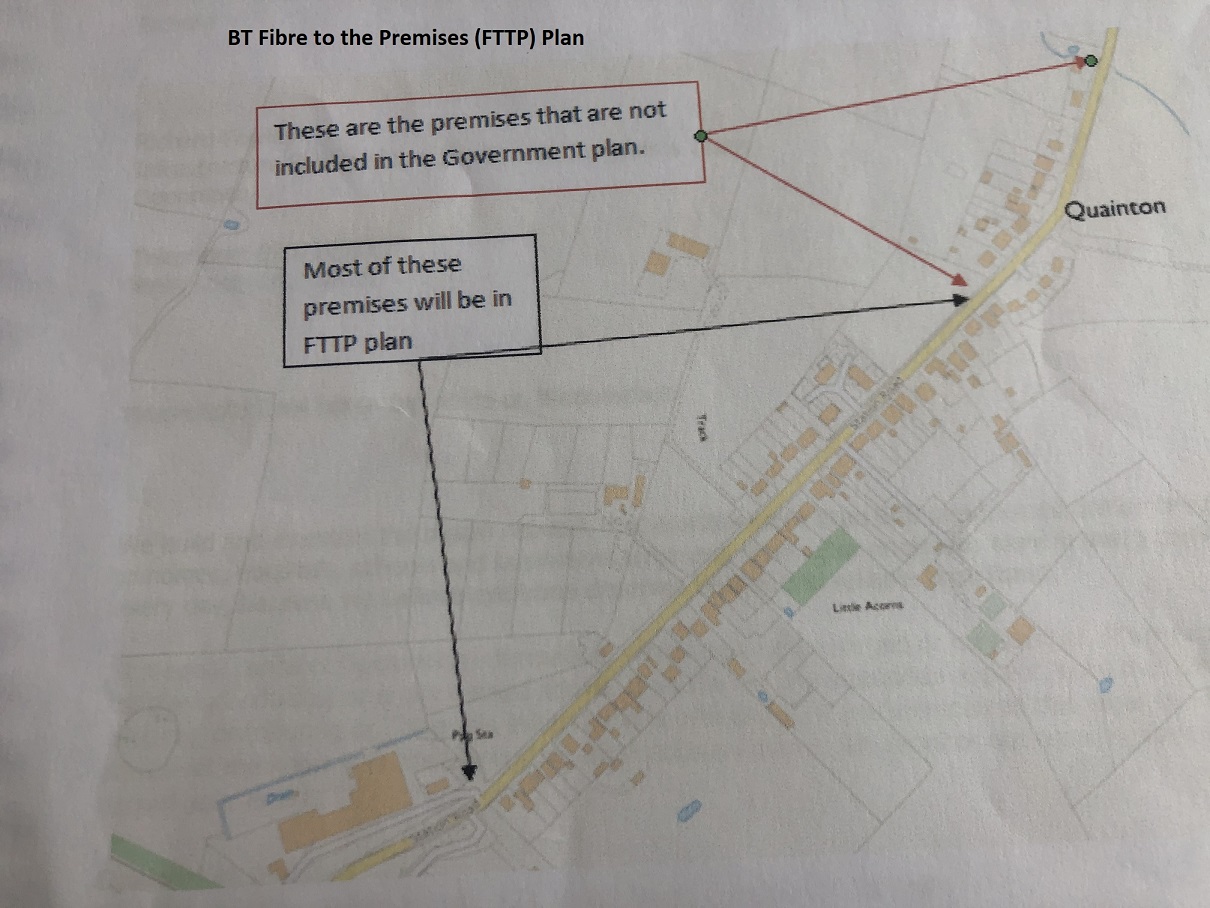 Fibre Broadband History

Fibre broadband came to Quainton in Spring 2016 with speeds of up to 80mbps for those closest to the cabinet (7) at the Lower St/Station Rd junction.
This is known as FTTC (Fibre to the cabinet) and the signal continues over copper wiring to the subscriber's premises. The potential speed declines as it travels further from the cabinet over copper wire, e.g. Upper St is rated at 25mbps. This is deemed the norm for downloading movies.
Standard broadband delivered over the traditional copper wiring is advertised as up to 17mbps but an outlying farm such as Knapp Hook achieves less than 2mbps, whilst the centre of the village would get 7-8mbps.
The government defines superfast broadband as speeds in excess of 24mbps and which is necessary to download films or TV programmes
The nearest exchange is Waddesdon by the Quainton Railway Centre and fibre was laid to cabinet 7 in Quainton at the Station Rd/Lower St junction.
Cabinet 8
Sometime after the introduction of fast broadband it was discovered that there is another cabinet (8) which serves the lower part of Station Rd and is in fact the closest cabinet to the exchange. This was bypassed when the fibre was laid to cabinet (7).
This was because not enough people had expressed interest in the preliminary research conducted by Connected Counties (see below). The geographical location was not considered.
However standard broadband speed is probably closer to the 17mbps max as it is closest to the exchange
This cabinet is a "100" connection cabinet and with more new houses planned for Station Rd is becoming overloaded and needs upgrading
Government and Local Support for Fibre Broadband.
The Government set up a £1.7bn fund with the aim of delivering a minimum 24mbps to 95% of houses by installing optical fibre to local cabinets.
This was administered at County level and Bucks joined with Herts to form Connected Counties
They determined the priorities by asking people to register and then agreed with BT which cabinets to upgrade based on responses and any technical limitations.
The 95% target has been achieved.
However many rural communities and especially outlying farms are in the remaining 5% including Quainton's Station Rd and all of the Parish's outlying farms.
AVDC (now Buckinghamshire Council) subsequently provided £400k from the New Homes Bonus to further extend the reach in the Vale through Connected Counties. Unfortunately the Parish Council found out about cabinet 8 after the funding was allocated and cabinet (8) again missed out.
Subsequently the Government has set a Universal Service Obligation (USO) of 10mbps to all premises by 2020 but there is no funding announced to achieve this.
More recently money is being provided to provide Fibre to the Premises in major urban areas. This is aimed mainly at businesses and could provide even faster speeds. Although Milton Keynes is involved this will provide no comfort to Quainton.
Other Developments
National Gigabit Broadband Voucher Scheme (GBVS) was announced by the Chancellor in March 2018.
Vouchers are available worth £500 for residents and £3000 for businesses.
They can only be used as part of a community group and the value of business vouchers must exceed the value of residential vouchers.
The scheme will end in March 2021 unless the funding available is fully used earlier.
Michael Gove, the then Environment Secretary promised to spend £2 billion on improving rural broadband and 4G coverage, saying they are as essential as electricity and water. He said the cost would come from money formerly disbursed by the EU, (probably farming subsidies).
He also pointed out that we are spending 30 times more than this sum on HS2 arguing universal broadband was just as important.
FCC who operate the incinerator near Calvert, have now completed the final hand over of the site by the constructors. As requested by surrounding parishes they are now able to talk to mobile and broadband providers about installing masts on the chimney. This should enable massively improved reception in the area as the chimney is visible across a very wide area.
EE, the mobile provider and subsidiary of BT, is planning to sell a shoebox size 4G antenna to bring fast broadband to rural areas.
This could deliver download speed of 100mbps. The main Quainton BT cabinet is capped at 80mbps
It will however require line of sight to the nearest 4G mast
It should be noted that 4G and 3G are very patchy in the village despite the mast on Quainton hill due to line of sight issues. On the mobile providers maps reception is shown in many village areas as poor indoors to nil in one small area. Best reception is around the Green with deterioration towards the west and south.
Ofcom announced in February 2018 new measures to boost full fibre broadband (This is many times faster than the current superfast broadband
Openreach are to allow other providers access to their telegraph poles and cable ducts.
Pricing decisions to encourage investment in full fibre networks
Improvement by Openreach to achieve faster repairs and installations.
This is actually aimed at high density urban areas where take up will justify the investment and will not benefit Quainton
Vodaphone & Nokia are planning to install a 4G station on the Moon which will be capable of transmitting live the activities of Audi moon rovers to be sent as part of a scientific mission to the moon.
What Are The Alternatives?
NB Prices quoted below are March 2018 and are for illustration only and are for unlimited downloads
BT Community Fibre
This is part of BT not Openreach
Ofcom has required Openreach be set up to operate independently of BT. It operates the wiring, ducts, telegraph poles, cabinets and exchanges and provides these facilities at arms-length to BT and other providers such as Sky and Talk Talk.
It is still part of the BT Group, which also includes EE and Plusnet.
Community Fibre works with local communities to provide connections where the original funding operated by Connected Counties has not provided an upgraded service.
It requires a substantial contribution by the community but is not allowed to compete with other providers (eg Gigaclear) in providing the service
Ashendon is being connected at a cost of c£64,000 of which Ashendon is raising half
A survey would have to be conducted to get a formal quote for Quainton, but £15-£20,000 was mentioned as a ball park estimate.
The survey would be to establish if ducting is damaged which would require excavation of the pavement to repair. So therefore we would be paying BT for their failure to maintain their assets
A survey of residents elicited 21 responses suggesting a cost of £800 per household
BT non promotional prices incl line rental range from £42/52mbps to £63/76mbps +£10 delivery of router
Non-fibre broadband is £43/17mbps +£20 delivery
Non-BT Major Providers
Only Sky & Talk Talk have installed equipment in the Waddesdon exchange which allows them to more effectively compete on price with BT. Plusnet would be available as a BT subsidiary.
Gigaclear
Gigaclear have installed broadband in Grendon. This required digging trenches throughout the village.
They install their own ducts and connect direct to the home (FTTP) enabling speeds of upto 1000mbps.
Packages range from £41/50mbps to £77/1gbps pm with £129+ installation and £100 activation fee
Voneus & Village Networks
These operate line of sight networks from masts on top of Bucks CC offices and Westcott Venture Park respectively and require an aerial on the receiving building
Voneus advertise a £35/50mbps package +£150 setup
Village Networks £40/24mbps +£220 setup
Rapid Rural
This is a local company operating out of Whitchurch. It uses the mast on the BCC tower and serves surrounding villages including Quainton.
A monthly package costs £42 +£318 setup. Download speed is 120mbps+ with unlimited downloads. It requires an aerial on the premises
States that the weather does not affect signal and likens it to DAB radio for consistency
EE
Mentioned above. A BT subsidiary using the EE mobile network. Requires line of sight
A 200gb "unlimited" package costs £60 pm + £100 setup. Download speed is not given
Church Spires
The use of Church spires for mobile type masts was the subject of several press articles.
Any mast would still require line of sight and in the case of Quainton's square spire would be unsightly
Mobile Coverage
Coverage per the supplier's maps can be summarised as follows and is amazingly and diversely patchy for such a small area.
Vodaphone
4G Poor indoors Townsend area
2/3G Outdoors only in much of village
O2
4G Poor indoors Townsend area
2/3G All Good ( personal experience belies this)
EE (BT)
4G Mainly outdoors only
2/3G Half village outdoors only
3
4G Good round the Green -rest of village poor
3G 4G Poor indoors Townsend area but Pigotts Orchard shows as no service.
Satellite
This is another option in rural areas.
Difficult to find suppliers but speeds are less than the 24mbps superfast minimum.
May also suffer at times of bad weather.